The Forest Side restaurant and rooms in Grasmere, in the Lake District, was included in the global Top 100 as well as being voted no.4 in the UK at the We're Smart World Awards which took place in Belgium this week.
Alongside the likes of Moor Hall, Lyle's, The Dining Hall and Apricity who were also included in the Top 100, The Forest Side further establishes itself as one of the UK's most forward thinking, sustainable and inventive restaurants of the year.
"We're Smart® World wants to bring together people and companies who are working in a healthy, ecological and sustainable way, both in the food sector and beyond. The aim is to learn from and strengthen each other with the sole purpose of making our society evolve towards smarter solutions for our bodies, nature and the world."
Alasdair Elwick, General Manager of The Forest Side said: "I'm so proud of the team for continuing to push forward in putting and keeping us on the map. To be recognised for a fantastic global award means that we are being recognised for the hard but rewarding work we do here. It is wonderful to be acknowledged, we all feel that The Forest Side is a truly special place."
With exclusive grounds to discover and a unique food offering, The Forest Side is in a world of its own making at the heart of the Lake District.  It is a magical retreat surrounded by the stunning countryside of Wordsworth's beloved Grasmere. Set in a gothic mansion, with a charming team to provide every comfort and service, there are 20 beautiful bedrooms, welcoming lounges and a highly creative bar team. This is the home to a Michelin-starred restaurant, led by Head Chef Paul Leonard designed to be a reflection of the very landscape in which it sits.
To help achieve this, the kitchen selects only the freshest locally sourced seasonal produce, which is then paired with an exclusive wine list featuring small organic and bio-dynamic wine producers. Many of the ingredients are homegrown in The Forest Side gardens and kitchen garden providing about 60% of the fresh seasonal fruit and vegetables needed, as well as an array of flowering plants and herbs.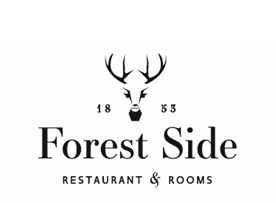 The Forest Side Hotel
Keswick Road
Grasmere
Cumbria
LA22 9RN
+44 (0)15394 35250
X:  @TheForestSide
Facebook:  TheForestSide