Spring Fair, the UK's most inspirational wholesale marketplace for home, gift and fashion, partnered with leading global futures agency TrendBible, to provide visitors to the show last week with an exclusive preview into the key Home & Interiors and Gifting trends for 2023. Kate Usher, Senior Trend Consultant has uncovered the consumer behaviours, lifestyle choices and key trends set to underpin product and design trends for the home, gifting, and celebration.
Following a series of aftershocks from the pandemic, emotional reactions and lifestyle disruptions have inspired a generation of innovations to think anew about how we live and consume. The Home & Interiors Macro Trends 2023 overview covers 4 trends; Radical Nature, Age of Emotion, Empowered Minds, and Dawn of the Digiscape.
Focusing on Age of Emotion, Kate outlined the key elements driving the trend including active engagement, cultivating kindness, decision exhaustion, calm commerce, and recuperative rituals. The thought starters included considering the need for quieter and more streamlined retail, simplicity across product and marketing lifecycles, spaces for honest discussion, and being considerate of those with decision exhaustion by putting ease of purchase at the heart of your approach.
Looking more closely at the 2023 Home and Lifestyle Trends, which includes Future Eden, Age of Sensitivity, Superbloom and Altered States, Kate talked through Age of Sensitivity. Driving the trend for togetherness, sensual please, healing, preserved memories and introspection, are grief management, embracing fragility, and post-pandemic healing. A colour palette of soft lilacs, creamy yellow, peach and blues, are injected with burgundy and a rich deep sea blue, with ribbon shapes, stained glass, and packaging mimicking objet d'art, and handmade papers generating a healing and intuitive gentleness.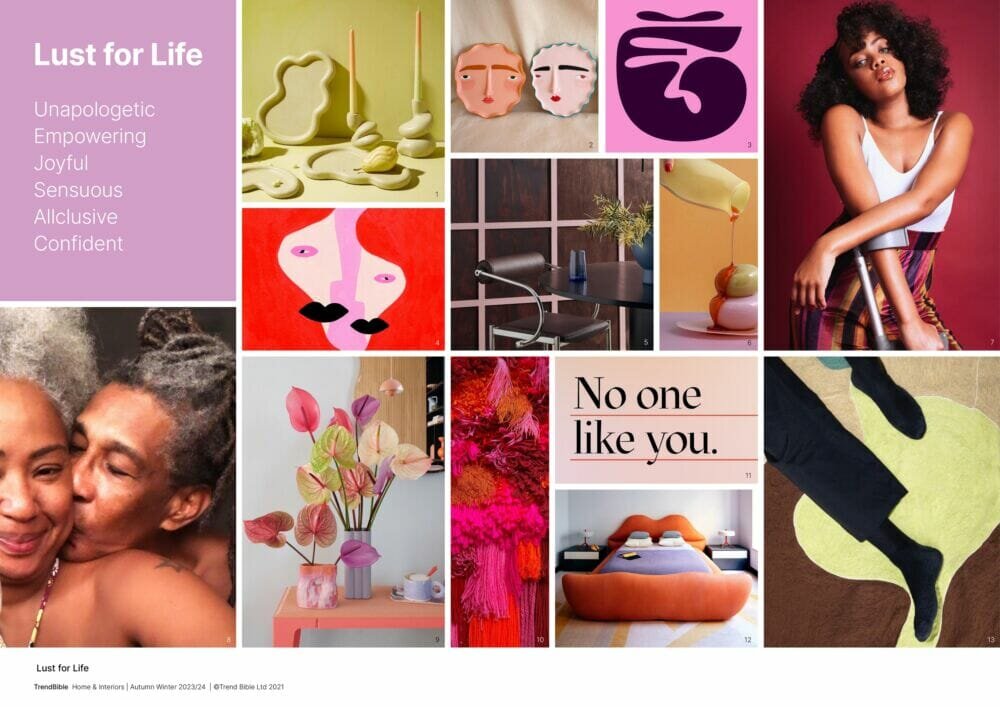 The Home & Interiors Autumn Winter 2023 Forecast Lust for Life followed. Lust for Life shouts out loud about empowerment for all. It's a call to unapologetic, joyful and sensuous lifestyle choices and design. Full of fun and confident options – rather than limits and taboos – this trend is all about ungendering traditions and being proud of yin/female energy; regardless of one's personal identity.
The Gifting Trends for 2023 Session included The Future of Celebration 2023 Forecast – Quiet Regrowth, a trend that sees life slowing down even further, with a quiet yet considered pace of life emerging.
Driving this trend are concerns for the planet reaching crisis point, and a strong connection to nature in our celebrations becomes the utmost priority. This influences the 'design to last' mentality that runs through this story as well as prompting new zero-waste packing opportunities and luxurious non-toxic gifting ideas. When it comes to throwing a party, appreciating and embracing the process and the craftsmanship behind the food, styling and décor becomes as important as the event itself. This brings the creative process into the spotlight, amplifying not only the dedicated skill of crafting, building and making, but also celebrating the mistakes and imperfections made along the way.
Brands and retailers need to connect with a consumer that embraces celebrations and occasions with a conscious mindset and a greater appreciation for the artisan. The long-lasting relationships and bonds with loved ones are nurtured and treasured as modern families re-establish new rituals and traditions.
The colour palette brings together cobalt, grey, yellow, lilac, red, brown, and blush, while natural textures, barely there florals featuring muted earthy shades, long bending stems and minimal dried leaves nod towards the unrefined minimal and rustic aesthetic of this trend. Traditional techniques such as lino-cutting, fine art printing and embossing are given a new lease of life, adorning cards, packing and stationery as well as influencing new mindful crafting activity kits. A renewed interest in foraging sees books to inspire and educate about this practice become key.
Consider the longevity of gifts, partywear and décor by looking for ways they can be woven into the fabric of the home, repurposed or reused beyond their original role. The focus is on sustainable materials and manufacturing processes.
The TrendBible talks are now available to view on demand at https://www.springfair.com/the-on-demand-programme-2022
Images to be credited to TrendBible.
For further Spring Fair information please visit www.springfair.com.
Autumn Fair takes place from 4th – 7th September 2022 at NEC Birmingham. Visit www.autumnfair.com for more details.