A string of the country's leading chefs join Chef Patron Will Bowlby at Kricket White City throughout the month 
Kricket's Will Bowlby and Rik Campbell are thrilled to announce the line up for their annual charity Guest Chef Series. The events, which take place at the duo's restaurant in White City, will see four of the UK's top culinary talents takeover the Kricket kitchen to create their bespoke menus in collaboration with Chef Patron, Will.
Sally Abé (The Pem), Jackson Boxer (Brunswick House and Orasay), Ben Tish (Cubitt House), and Will Murray and Jack Croft (Fallow) will all take part, with the events running every Tuesday throughout September. Tickets are priced at £65 per person which includes a four course feasting menu and a welcome drink from the team at SOMA, Will and Rik's revered cocktail bar in Soho.
Now in its fourth year, the series continues to raise vital funds for Kricket's long term charity partner, Apne Aap Women's Collective. All proceeds go to the anti-trafficking organisation that serves the women and children of Kamathipura, one of the most impoverished areas of Mumbai.
Tuesday 6 September: Kricket x Sally Abé
Square Meal's Female Chef of the Year in 2021, Sally has a wealth of experience across some of London's most prestigious restaurants including The Ledbury, The Harwood Arms and most recently, The Pem at Conrad London St. James Hotel, where she heads up the kitchen. Sally took part in this year's Great British Menu where her classic and unfussy approach to cooking led her to serve a course at the banquet. Sally's passion for British game is reflected in her guest menu with dishes such as Tandoor venison rack with shoulder biryani and Smoked bone marrow with spiced masala taking centre stage.
Tuesday 13 September: Kricket x Jackson Boxer
With his restaurants Brunswick House in Vauxhall and Orasay in Notting Hill, Jackson has become known in the London restaurant scene for his inventive and imaginative menus using unexpected flavour combinations which intrigue and excite. Diners can expect Raw beef tartlet with toddy shop spices, smoked yoghurt and wild rice and Trout crudo with green apple rasam, radish and curry leaf oil which showcase Jackson's cooking style perfectly. Fans of Orasay's famed Potato bread will be pleased to see Tandoor fermented potato bread and crispy lamb fat on the menu.
Tuesday 20 September: Kricket x Ben Tish
Not short on culinary expertise, celebrated chef and cookbook author, Ben Tish, joined Cubitt House, the collection of London pubs, restaurants and boutique hotels, as Chef Director in 2021, having previously run the kitchens of The Stafford Hotel and Norma. With over 20 years of experience in the industry, Ben will bring his signature flair and taste of the Mediterranean to his evening at Kricket. Guests can expect Sicilian and Indian fusion dishes – think Porchetta peralan, Fennel and potato sabzi, and Sicilian style focaccia cooked in the tandoor with grapes, wine and rosemary.
Tuesday 27 September: Kricket x Will Murray and Jack Croft
At their restaurant in St James's Market, Chef Patrons Will Murray and Jack Croft entice guests with their passion for creative cooking with a particular emphasis on championing ingredients that otherwise might go to waste. Sustainable cooking is at the heart of their menu with dishes like Andhra spiced cod's head with boondi scraps and Beef tongue boti kebab.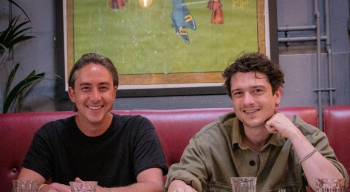 Will and Rik are more excited than ever to kick off this year's Guest Chef Series. Speaking on the upcoming events, Will says "I'm so excited to get into the kitchen with these incredible chefs and create some truly exceptional and unexpected dishes. Most importantly, it's an opportunity to raise some money for a great cause."
Notes:
Tickets are priced at £65 per person which includes a four course feasting menu and a welcome cocktail from SOMA
Any cancellations must be made at least 48 hours prior to the event
Address: Kricket White City, 101 Wood Lane, London, W12 7FR
@kricketlondon | @will_bowlby | @rik.kricket | @littlechefsally | @ben.tish | @jackson_boxer | @willmurraychef | @jcroftchef